Victoria BC Bed Breakfast Downtown
Check out our video of our Victoria BC Bed Breakfast Downtown it will give you an idea of your hosts, the easy zoning and professional treatment you will receive during your stay at the Gingerbread Cottage B&B.
Our Video is professionally close captioned by Kris Brandhagen in case you are watching at the office :)
Gourmet Chef Owned and Operated – Super Breakfasts
Our Gingerbread Cottage B&B has a Super Location, Great Rates, Cute Theme Rooms and Fantastic Privacy Zoning  but Breakfast By Vanessa von Schellwitz – Victoria's most notable culinary instructor, caterer and food photography designer from the past few decades – is our Main Focus – read more…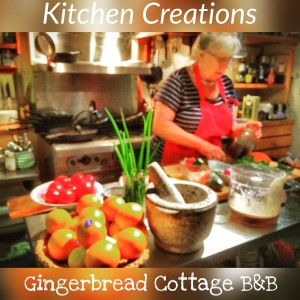 Our Gorgeous Guest Rooms
We have two well-appointed Guest Rooms Book Early as we are a small B&B and tend to fill. up fast due to Vanessa von Schellwitz's wonderful welcomes, great cooking and European Style Hospitality
Lavender Room Guest Room at the Gingerbread Cottage B&B – Spherical Image – RICOH THETA
Click here to Read more about our Guest Rooms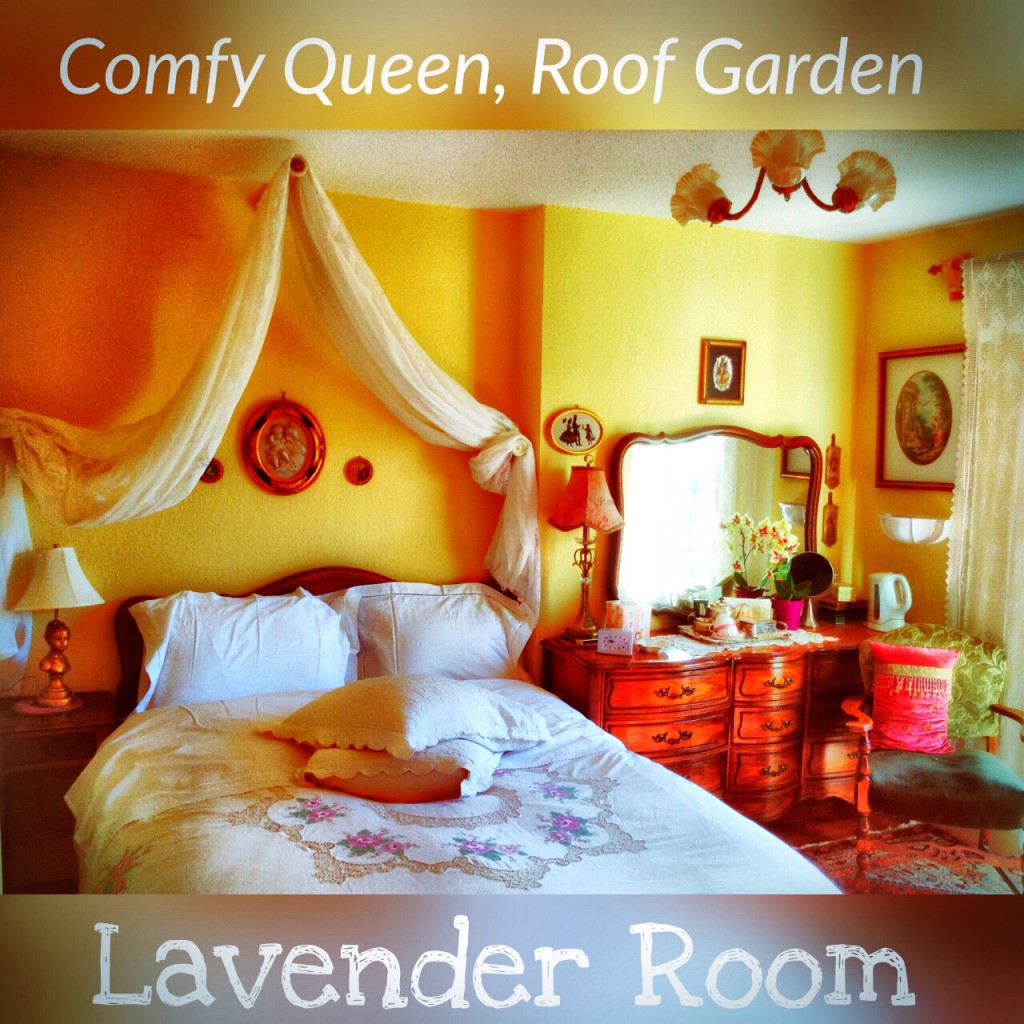 Click here to Read more about our Guest Rooms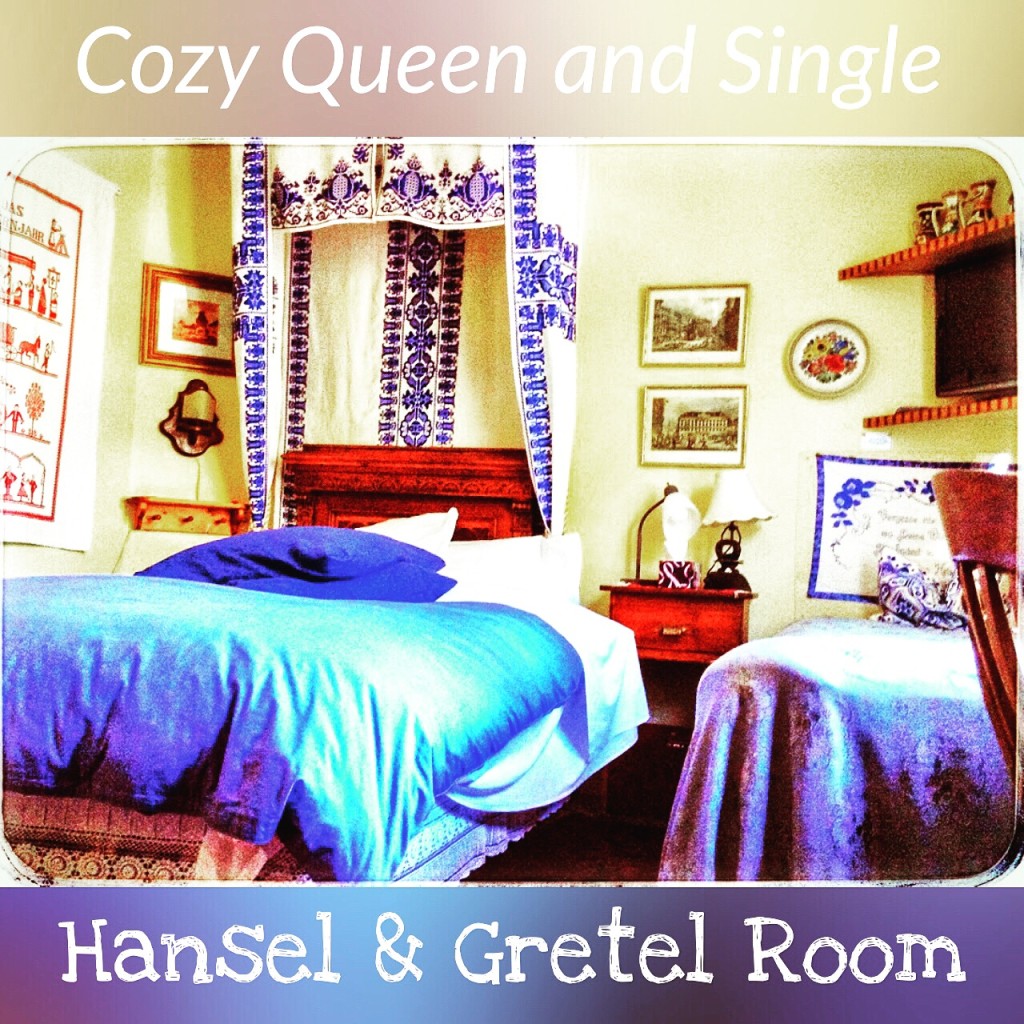 Click here to Read more about our Guest Rooms
Historic Gingerbread Cottage B&B was built in 1905, it was the first side by side duplex design in the downtown area.
The Gingerbread Cottage B&B is 1905 Victorian "Arts and Crafts Shotgun Duplex" Heritage Bed and Breakfast with Irish Pan Tile Roof and Copper Fittings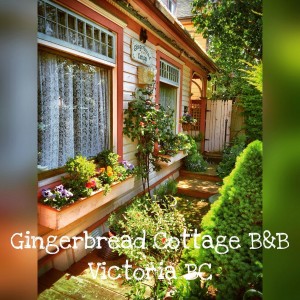 The Gingerbread Cottage B&B is an authentic 1905 Victoria Arts and crafts home with lots of nooks and crannies and great location
The Gingerbread Cottage Bed and Breakfast is located in Victoria's beautiful inner harbour area of James Bay. The home is on the heritage list at the City of Victoria. It was built by a carpenter to live in himself. His sister occupied the other half.
Semi Private Entrances
The Gingerbread Cottage Bed and Breakfast has a perfect interior zoning for a Victoria BC bed and breakfast downtown as, unlike most B&Bs and airbnbs, our guests do not have to ever go through a private family area.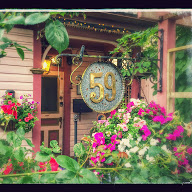 Gingerbread Cottage Bed and Breakfast 1905 Victorian Arts and Crafts Heritage Duplex Home welcomes guest from the World Over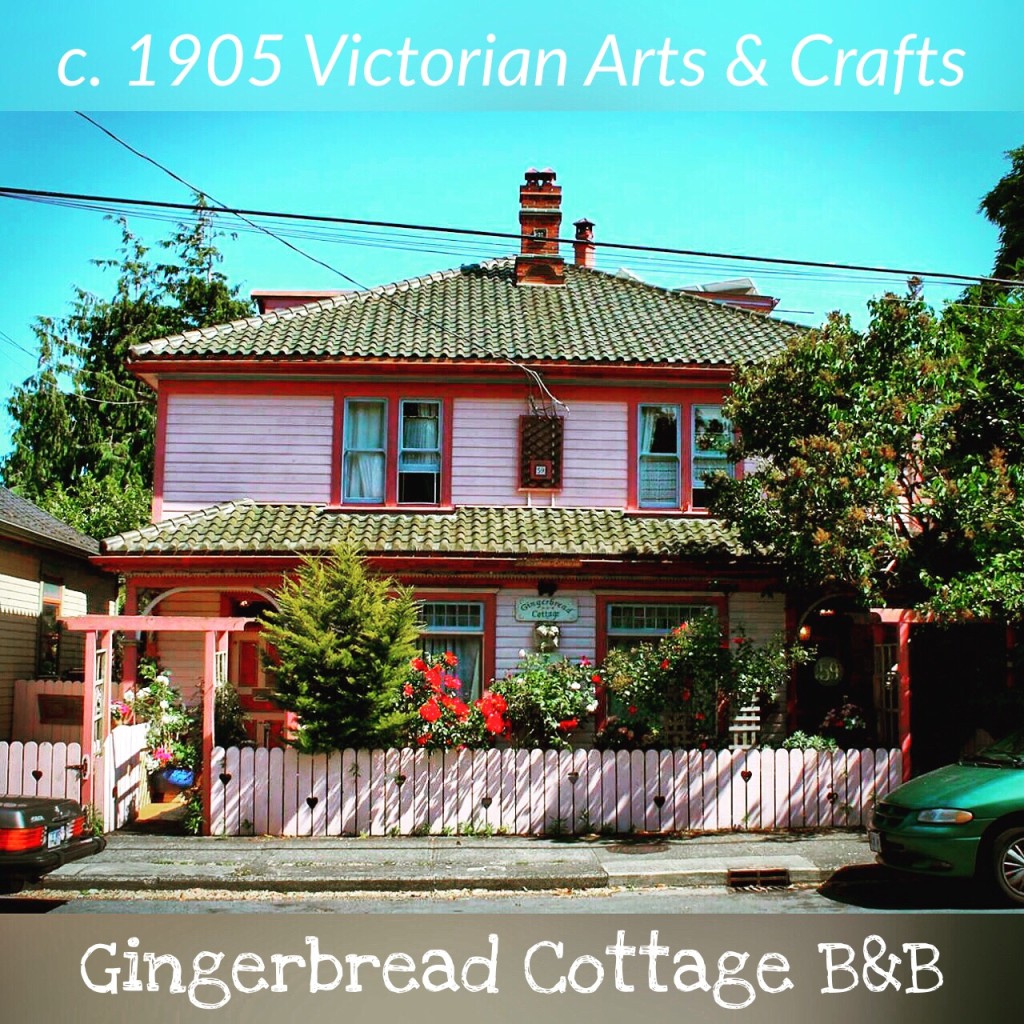 The house is  one of Victoria's first side by side duplex designs.
The style of the Victorian Arts and Crafts home is called a  'shotgun duplex'. This is because originally you could shoot a shotgun in the front door and right through the back door. Nice feature! 🙂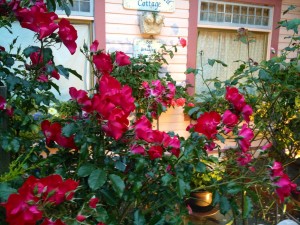 Some Photos from around our Victoria BC Bed Breakfast downtown Location.
Location, Location, Location
Right downtown near (Seattle to Victoria) Clipper passenger ferry docks.
Short walk to Coho Ferry (Blackball) from Port Angeles, Washington (Hint: leave your car in reasonable priced covered parking at Port Angeles and Walk on the Coho)
Steps Away from the beautiful Salish Sea portion of Strait of Juan de Fuca, Pacific Ocean and the popular Dallas Rd Seawall Promenade, Victoria's famous Breakwater Structure and Cruise Ship Docks at Ogden Point
Short walk to Beacon Hill Park and Petting Zoo, Royal BC Museum and Imax Theatre, Emily Carr House, Robert Bateman Gallery (NEW formerly wax museum), Empress Hotel High Tea, British Columbia Parliament Buildings, Busking and Crafts on Lower Causeway and Victoria's own quaint Fisherman's Wharf
YYJ Airport Shuttle will bring you direct to our c.1905 Heritage B&B (check their website for current rates)
Short 4-5 minute walk from Victoria Helijet airport with regular flights to/from Vancouver (check their website for current rates)
Kenmore Air Seaplane Service with 45 minute flights from Seattle is located close by in Inner Harbour and a short cab to the Gingerbread Cottage (check their website for current rates)
Harbour Air Seaplane Service to/from Vancouver, Nanaimo, Whistler, Salt Spring and Gulf Islands is located close by in Inner Harbour and a short cab to the Gingerbread Cottage (check their website for current rates)
10-15 minute walk or short cab to Victoria Bus depot with Bus Service to/from BC Ferries Pacific Coach Lines or all points with Greyhound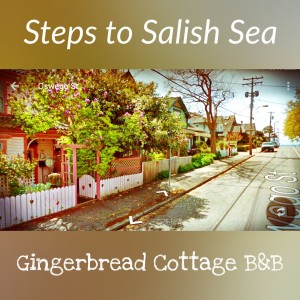 A few short steps up the street to our breathtaking Salish Sea, Victoria Breakwater, Pacific Ocean Seawall and Cruise Ship Docks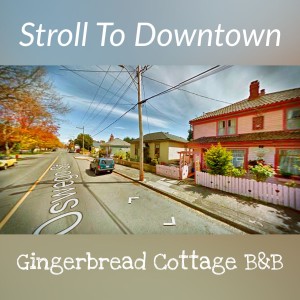 Gourmet Chef Food, Themed and Quiet "Well Zoned Rooms" with Private Entrances and Baths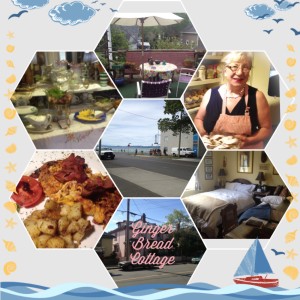 Affordably Priced at $140 – $160 per night for one or two people – Minimum 2 night bookings
Price varies according to Length of Stay, Holiday Weekends and Availability
Book your stay today in Downtown Victoria's Beautiful and Scenic Inner Harbour
Victoria BC Bed and Breakfast Downtown
German/Deutsch and English spoken! We hope to hear from you!
Vanessa von Schellwitz is a fantastic chef and baker Check out our Great Breakfasts… You will love the cooked to order breakfasts. All Diets Accommodated.
And The Best Breakfast in Victoria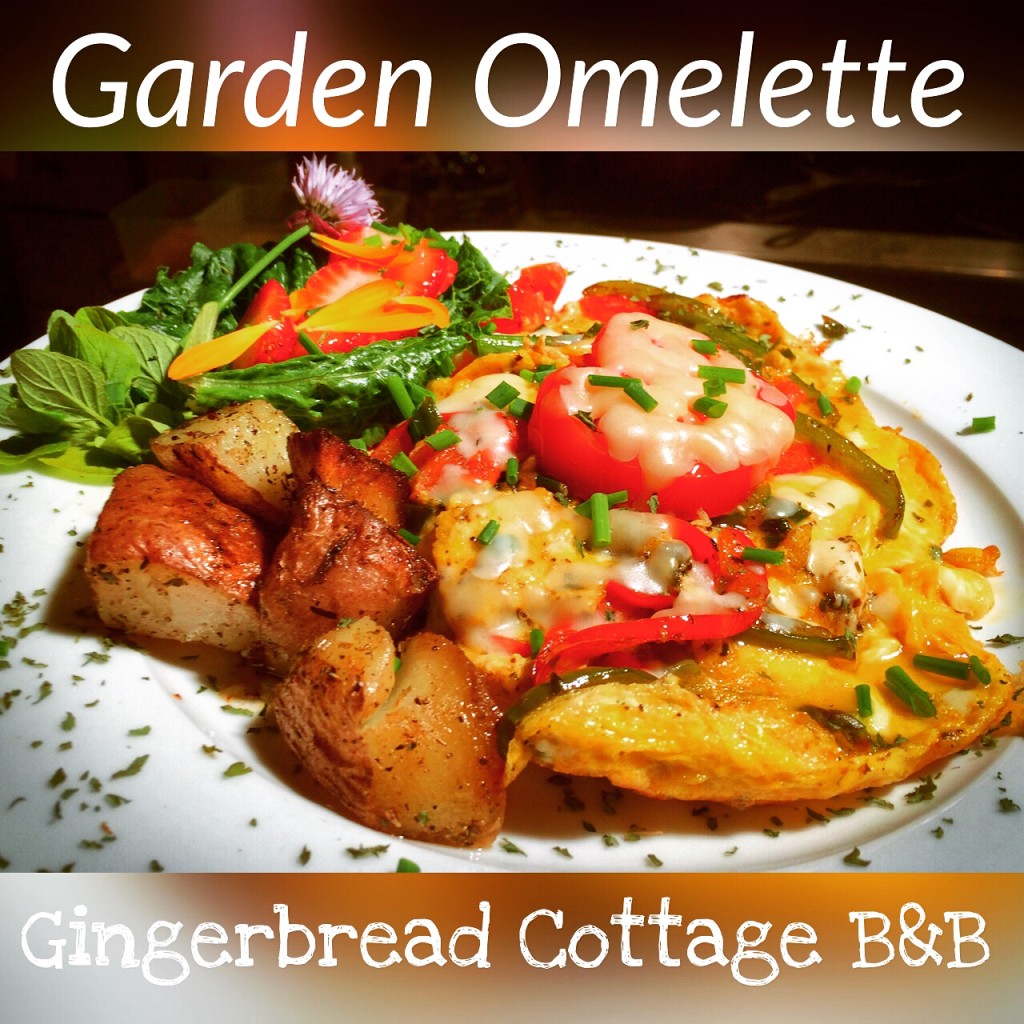 Click to check out our Breakfast pages
 
Everyone is welcome and loved at our B&B
---
 Book Your stay of two or more nights now – call 1-877-767-2121 Toll Free or Text 250-812-5457
---
Your Hostess and Private Chef
Vanessa von Schellwitz
Owner Operator Gingerbread Cottage B&B
As a child, Vanessa was a real life "Heidi" living in the Eschen Villa on the clean, cold alpine Attersee Lake, in Seewalchen Austria, 50 KM East of Salzburg. 
Vanessa's birthplace was located 50 meters from her Godmother's famous Paulick Villa – the Summer Playground to Vienna's Elite Art nouveau Community including Gustav Klimt, Egon Schiele, Richard Teschner and Friedrich Paulick at the turn of the 19th century.
In fact, the aunt of Vanessa's Godmother, Gertrude Floege, was the famous fashion designer Emelia Floege – life companion of Gustav Klimt who frequently painted at the Paulick Villa..
Also the last Countess Maria dei Medici, who lived adjacent to the Eschen Villa hand wrote a poem for Vanessa as a child… Not many People can say that!
Vanessa got her teaching Degree in Salzburg but her real love and talents were for cooking.. 
Coming to Vancouver Island via Culture City itself – Salzburg Austria – A true Austrian,Vanessa has pure Mozart flowing through her veins and a delicious piping hot Austrian ApfelStrudel in the Oven for her many guests!
Vanessa and her 70's husband owned and operated the Austrian Chalet, an 80 room hotel with 3 Restaurants in Campbell River BC
Vanessa spent many years as Victoria BC's busiest and most Versatile Culinary Instructor from her Veni. Vidi, Coxi Cooking School, and operating her busy "Vienna Catering" Business
Author of 7 Cookbooks, Vanessa also wrote a food Column, had her own TV cooking show and did food styling for other local authors.
Vanessa makes all her guests feel like Austrian Royalty in her c. 1905 Victorian "Arts and Crafts Heritage Home" with Cozy Themed rooms and Elegant 3 Course Breakfasts in her "Bavarian  Gasthaus" Style Breakfast Room
Please Feel Free to Contact us for booking information.
Call Toll free 1-877-767-2121
iMessage or Text 250-812-5457
Email: [email protected]

Past Member of International Association of Culinary Professionals