Gingerbread Cottage Victoria BC – Common Areas
The Gingerbread Cottage Victoria BC Canada is a 1905 Victorian Arts and Crafts Side by Side converted Duplex design ideally suited to a bed and breakfast operation as it has great zoning and lots of Common Areas for Guests to Enjoy. Rooms are quiet and private.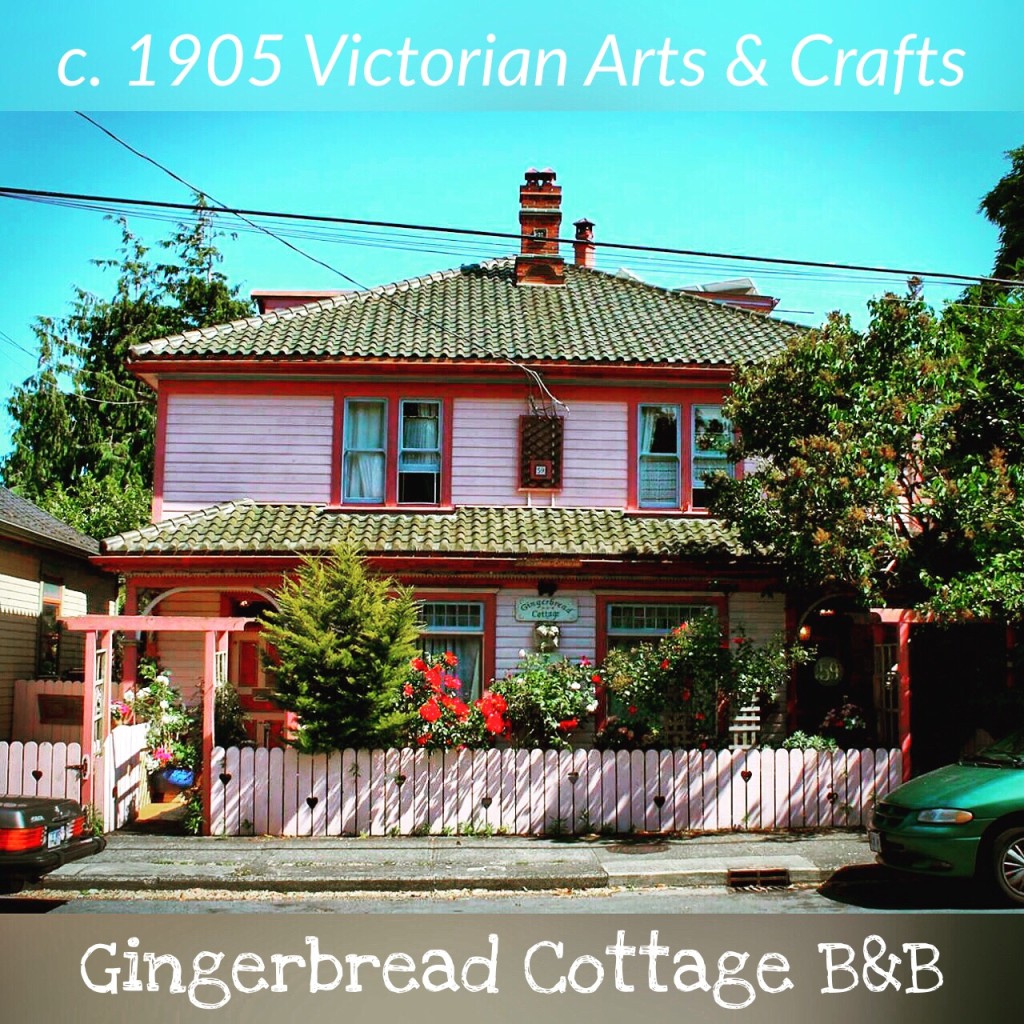 Registered Guests at our Gingerbread Cottage Victoria BC are welcome to use several common areas during their stay:
---
Professional Check In Desk
Grade Level Lobby and check in area at Front Entrance. Vanessa owned a hotel and worked at several others so this area is professional and business like.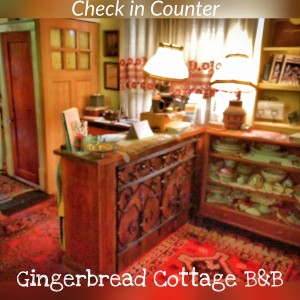 ---
Complimentary Hot drink Bar in Reception Area 24/7
There is a Keurig Coffee/tea/hot chocolate/decaf. coffee machine in the Reception are. You can help yourself anytime to a hot drink. China cups as well as paper cups are stocked for your convenience.
You will also find bowls of complimentary candy in all rooms and hallways
---
Living Room Conversation and Music Area
The guest Living Room with Gas Fireplace is nice for relaxing in the evening, conversation and getting together with other guests.
Our Living room also has a Wurlitzer Piano with recent tuning.
You are welcome to play the Piano.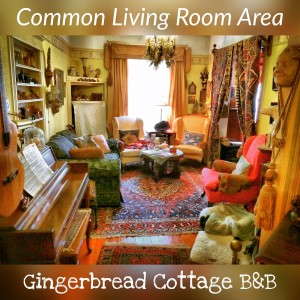 ---
Professional  Dedicated Breakfast Room
Our Dedicated Austrian "Gasthaus" themed Breakfast Room is also available in the morning. It's like a small Restaurant. Everyone gets  their own table and can be private if they wish or join in the room conversations.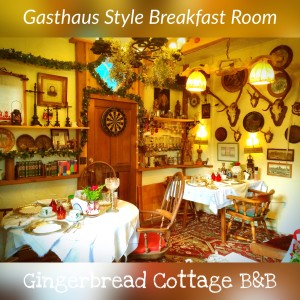 ---
Garden and Patio Terrace
Our back Garden off the Breakfast room has nice private deck with canopy umbrella and is available to guests in the afternoons and early evening.
The kitchen/breakfast/Office area is locked off in the late afternoon, but there is also a small table with chairs in the front garden.
Some of our guests use these space for enjoying a smoke or two. It's hard to find anywhere to smoke these days.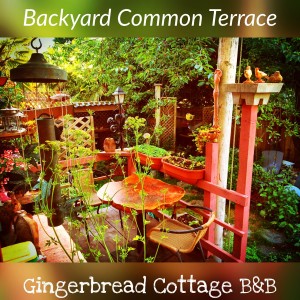 Our Backyard Garden also has a seating area under the cherry tree.
---
Peaceful Garden Meditation Area
In case you wish to get in touch with your inner gingerbread we have a quiet place for just relaxing or lighting a candle and contemplation.
We have a lot of European religious art and this little area is a lot like the chapels or roadside prayer stations found in Vanessa's Austria.- In fact, once  a Mother Superior stayed with us and she said she felt very comfortable with our facility.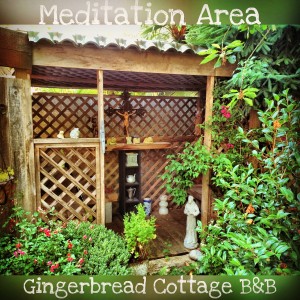 We have had several weddings in our garden and Vanessa has catered countless weddings.
---
Our Herb Garden
Vanessa is a real strong believer in local foods and grows many of her own culinary herbs and also some medicinal herbs.
Chives, Arugula, Cilantro, Chervil, Dill, Parsley, Sage, Oregano, marjoram, Thyme, Basil, English Mint, Lemon Balm, Bee Balm, Lemon Verbena,  Bay Leaf, Nettle, Echinacea, Wormwood, Lady's Mantle, Feverfew, Sorrel, Borage Comfrey, Lovage, Violets, Calendula, Lavender, to name a few…
Nasturtiums, Violets, Roses and other edible flowers also do well in our Herb Garden.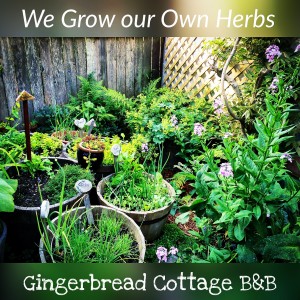 ---
Rose Garden Patio in Front Yard
The Rose Garden Patio in Front of the Gingerbread Cottage has a cute table and chairs to relax for a few minutes. When cruise ships are in town there is a lot of people walking by and conversations are kind of fun in this area.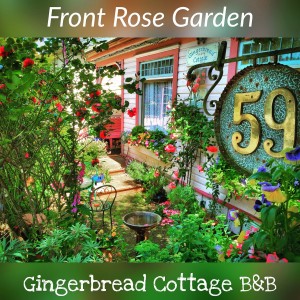 We are within walking distance of everything in downtown Victoria, Plan your stay today!
---
Your Hostess
Vanessa von Schellwitz
Owner Operator Gingerbread Cottage B&B
As a child, Vanessa was a real life "Heidi" living in the Eschen Villa on the clean, cold alpine Attersee Lake, in Seewalchen Austria, 50 KM East of Salzburg. 
Vanessa's birthplace was located 50 meters from her Godmother's famous Paulick Villa – the Summer Playground to Vienna's Elite Art nouveau Community including Gustav Klimt, Egon Schiele, Richard Teschner and Friedrich Paulick at the turn of the 19th century.
In fact, the aunt of Vanessa's Godmother, Gertrude Floege, was the famous fashion designer Emelia Floege – life companion of Gustav Klimt who frequently painted at the Paulick Villa..
Also the last Countess Maria dei Medici, who lived adjacent to the Eschen Villa hand wrote a poem for Vanessa as a child… Not many People can say that!
Vanessa got her teaching Degree in Salzburg but her real love and talents were for cooking.. 
Coming to Vancouver Island via Culture City itself – Salzburg Austria – A true Austrian,Vanessa has pure Mozart flowing through her veins and a delicious piping hot Austrian ApfelStrudel in the Oven for her many guests!
Vanessa and her 70's husband owned and operated the Austrian Chalet, an 80 room hotel with 3 Restaurants in Campbell River BC
Vanessa spent many years as Victoria BC's busiest and most Versatile Culinary Instructor from her Veni. Vidi, Coxi Cooking School, and operating her busy "Vienna Catering" Business
Author of 8 Cookbooks, Vanessa also wrote a food Column, had her own TV cooking show and did food styling for other local authors and magazines.

Vanessa makes all her guests feel like Austrian Royalty in her c. 1905 Victorian "Arts and Crafts Heritage Home" with Cozy Themed rooms and Elegant 3 Course Breakfasts in her "Bavarian  Gasthaus" Style Breakfast Room
Please Feel Free to Contact us for booking information.
Call Toll free 1-877-767-2121
iMessage or Text 250-812-5457
Email: [email protected]

Past Member of International Association of Culinary Professionals