Apple Strudel Recipe Puff Pastry Viennese Style
Vanessa von Schellwitz is famous for her Viennese Apple Strudel recipe her signature dish ate the Gingerbread Cottage Bed and Breakfast in downtown Victoria BC
Here is our Apple Strudel Recipe Video
Viennese Apple Strudel Recipe
Strudel Filling Ingredients
1 pound Puff Pastry
7 Medium Peeled Tart Apples (Boskoop, Granny Smith)
1/2 pound Reg butter
1/2 pound Ground Almonds or Hazelnuts
1/2 pound Icing Sugar
1/2 t Almond Extract
1 T Lemon Juice
Raisins
Cinnamon
Prepare filling
Melt butter in a saucepan or in the micro wave. Add ground nuts, icing sugar, extract and lemon juice. Stir well. If the mixture is too runny, just add more nuts and sugar.
On a floured work surface, roll out thawed puff pastry to about ⅛ inch. Spread filling on  dough, leaving a ½ inch on sides and on bottom uncovered. You may not need all the filling. Just reserve the rest in a plastic container in the refrigerator or freezer. Slice apples onto the filling with a mandolin slicer. Sprinkle raisins and a generous amount of cinnamon on top. Roll up Strudel from top to bottom, jelly roll style, into a long loaf, securing ends by pressing each end together. Place on a baking sheet covered with baking paper. Bake in a 400 F oven for about 40 minutes to one hour.  Let cool. Cut into 2-inch slices. Sprinkle with icing sugar.
Serve traditionally with whipped cream or vanilla sauce. As dessert you can also add some Vanilla ice cream. Yum!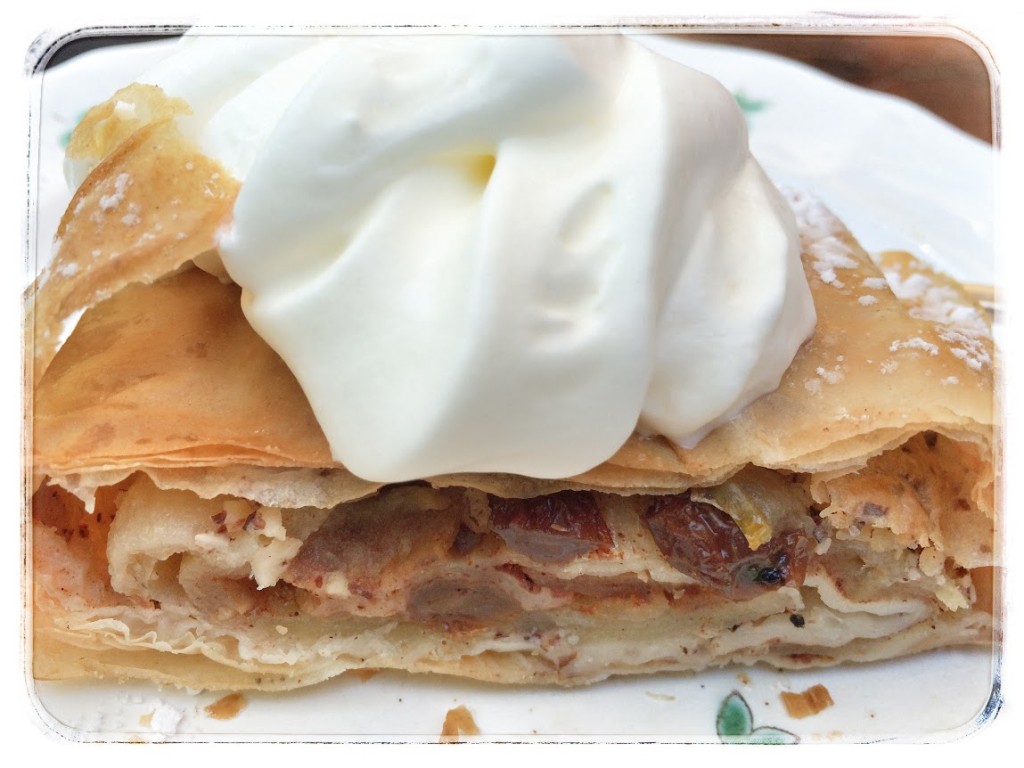 More Breakfast ideas at our Breakfast at the Cottage Cookbook Page Here
Breakfast at the Cottage Cookbook
available online for 7.95 in a printable PDF eBook Format
---
Book your Stay at the Gingerbread Cottage
Vanessa von Schellwitz
Owner Operator Gingerbread Cottage B&B
As a child, Vanessa was a real life "Heidi" living in the Eschen Villa on the clean, cold alpine Attersee Lake, in Seewalchen Austria, 50 KM East of Salzburg. 
Vanessa's birthplace was located 50 meters from her Godmother's famous Paulick Villa – the Summer Playground to Vienna's Elite Art Nouveau Community including Gustav Klimt, Egon Schiele, Richard Teschner and Friedrich Paulick at the turn of the 19th century.
In fact, the aunt of Vanessa's Godmother, Gertrude Floege, was the famous fashion designer Emilia Floege – life companion of Gustav Klimt who frequently painted at the Paulick Villa..
Also the last Countess Maria dei Medici, who lived adjacent to the Eschen Villa hand wrote a poem for Vanessa as a child… Not many People can say that!
Vanessa got her teaching Degree in Salzburg but her real love and talents were for cooking.. 
Coming to Vancouver Island via Culture City itself – Salzburg Austria – A true Austrian,Vanessa has pure Mozart flowing through her veins and a delicious piping hot Austrian ApfelStrudel in the Oven for her many guests!
Vanessa and her 70's husband owned and operated the Austrian Chalet, an 80 room hotel with 3 Restaurants in Campbell River BC
Vanessa spent many years as Victoria BC's busiest and most Versatile Culinary Instructor from her Veni. Vidi, Coxi Cooking School, and operating her busy "Vienna Catering" Business
Author of 8 Cookbooks, Vanessa also wrote a food Column, had her own TV cooking show and did food styling for other local authors.
Vanessa makes all her guests feel like Austrian Royalty in her c. 1905 Victorian "Arts and Crafts Heritage Home" with Cozy Themed rooms and Elegant 3 Course Breakfasts in her "Bavarian  Gasthaus" Style Breakfast Room
Please Feel Free to Contact us for booking information.
Call Toll free 1-877-767-2121
iMessage or Text 250-812-5457
Email: [email protected]

Past Member of International Association of Culinary Professionals