Beacon Hill Park Victoria BC Canada
Beacon Hill Park Victoria BC Canada is a huge public park set in downtown Victoria BC Canada.  Admission is free.
Beacon Hill Park Victoria also has a lovely petting zoo with many Goats, ducks, sheep, mini horses and llamas.
Here is our Video about the Petting Zoo
This is our favorite cute part of the park is the turtle log.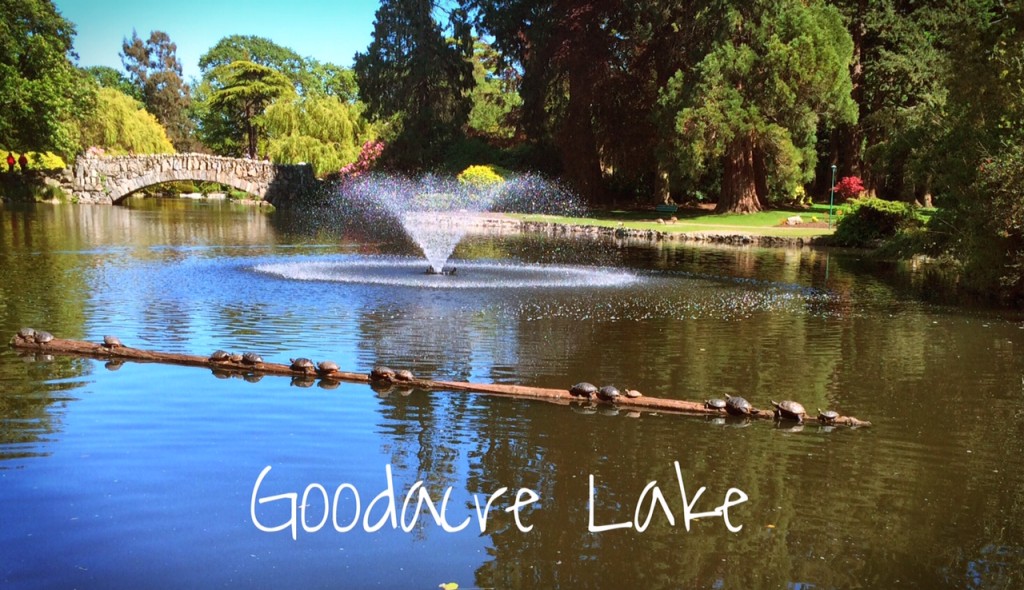 If you would like a room near Beacon Hill Park Victoria BC and all the other downtown Victoria Attractions like Dallas Road Seawall, Victoria Breakwater, Ogden Point Cruise ship Docks and Heliport, Coho Ferry Dock, Clipper Ferry Dock, Fisherman's Wharf, Victoria's Parliament buildings or Mile Zero of the Trans Canada Highway, Terry Fox Memorial, Emily Carr House, Royal BC Museum and Imax Theatre and Fonyo Beach then the Gingerbread Cottage Bed and Breakfast is a great place to stay!
Your Hostess and Private Chef
At the Gingerbread Cottage Bed and Breakfast
Vanessa von Schellwitz
Owner Operator Gingerbread Cottage B&B
As a child, Vanessa was a real life "Heidi" living in the Eschen Villa on the clean, cold alpine Attersee Lake, in Seewalchen Austria, 50 KM East of Salzburg. 
Vanessa's birthplace was located 50 meters from her Godmother's famous Paulick Villa – the Summer Playground to Vienna's Elite Art nouveau Community including Gustav Klimt, Egon Schiele, Richard Teschner and Friedrich Paulick at the turn of the 19th century.
In fact, the aunt of Vanessa's Godmother, Gertrude Floege, was the famous fashion designer Emelia Floege – life companion of Gustav Klimt who frequently painted at the Paulick Villa..
Also the last Countess Maria dei Medici, who lived adjacent to the Eschen Villa hand wrote a poem for Vanessa as a child… Not many People can say that!
Vanessa got her teaching Degree in Salzburg but her real love and talents were for cooking.. 
Coming to Vancouver Island via Culture City itself – Salzburg Austria – A true Austrian,Vanessa has pure Mozart flowing through her veins and a delicious piping hot Austrian ApfelStrudel in the Oven for her many guests!
Vanessa and her 70's husband owned and operated the Austrian Chalet, an 80 room hotel with 3 Restaurants in Campbell River BC
Vanessa spent many years as Victoria BC's busiest and most Versatile Culinary Instructor from her Veni. Vidi, Coxi Cooking School, and operating her busy "Vienna Catering" Business
Author of 8 Cookbooks, Vanessa also wrote a food Column, had her own TV cooking show and did food styling for other local authors.
Vanessa makes all her guests feel like Austrian Royalty in her c. 1905 Victorian "Arts and Crafts Heritage Home" with Cozy Themed rooms and Elegant 3 Course Breakfasts in her "Bavarian  Gasthaus" Style Breakfast Room
Please Feel Free to Contact us for booking information.
Call Toll free 1-877-767-2121
iMessage or Text 250-812-5457
Email: [email protected]

Past Member of International Association of Culinary Professionals