Gingerbread Cottage Bed Breakfast Reviews
Gingerbread Cottage Bed Breakfast Reviews page here has a large array of great reviews left by our wonderful guests from our guest books located in the B&B rooms over the  past 20 years!
As the internet is all about making great choices and trusting that what you see is what you get we published a few in the original handwriting at the bottom of this page to help you make up your mind.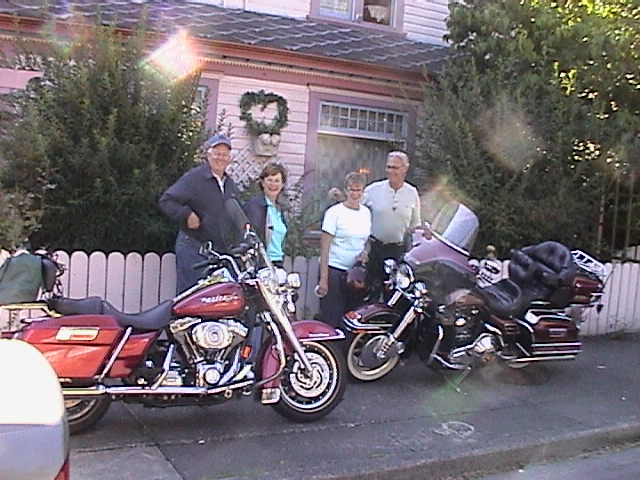 These are all in addition to all of our Trip Advisor and Google Plus  Public Reviews. Some folks just like the old hand written method which is actually way more heartfelt and personal…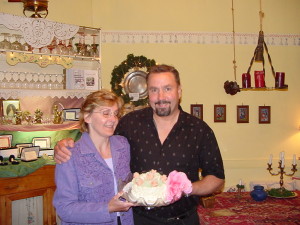 Actually I just found this one on YouTube which is what gave me the idea of doing a page like this again…
"Stayed here Sept. 2010. Great cook. Best strudel we've ever had! Good people. Comfortable, clean, cozy. Would highly recommend. Randy and Gloria"
Even Norwegians Like The Gingerbread Cottage B&B
We have a very International clientele and meet wonderful people everyday!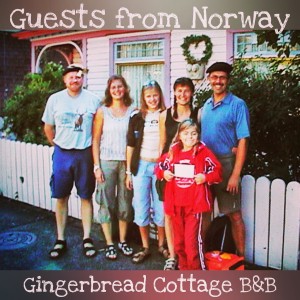 And Switzerland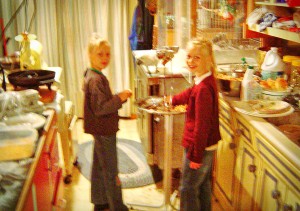 ---
The British Invasion
David, a pilot instructor from Seattle and was one of our Favorite "Fawlty Towers" type regulars.. He always insisted on a "Proper English Breakfast" which consisted of Eggs, Sausages, Bacon, Black Pudding, Home Fried Potatoes, Toast and strong Tetleys. We always provided his wishes..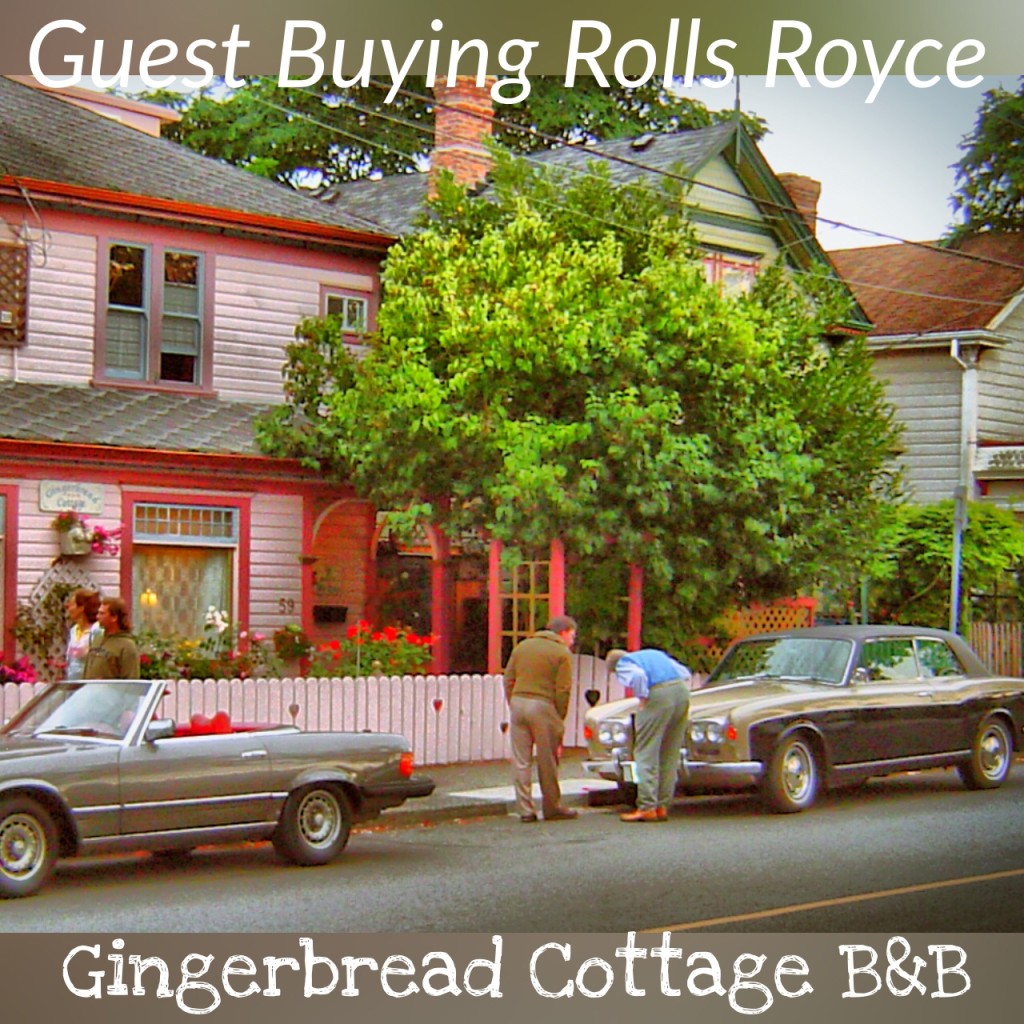 One of our favorite guests from Britain via Seattle bought this Gorgeous Rolls Royce in front of the Gingerbread Cottage Bed and Breakfast
---
Breakfast Interview with more Posh Brits!
One year a group came from the BBC in the spring, and all summer they sent their colleagues here for vacation.. there were so many BBC people here we thought they were scouting us for a remake of Fawlty Towers!  🙂
Here are some more of our Favorite Brits – Steve and Jackie and Brother Richard. We love these folks!
Happy Birthdays
And Even Multi Cultural Birthday Events
Happy Birthday in English German and Welsh
---
Marriage Attempts
Vanessa gets many, many, marriage proposals… so lock up your husbands when you get here…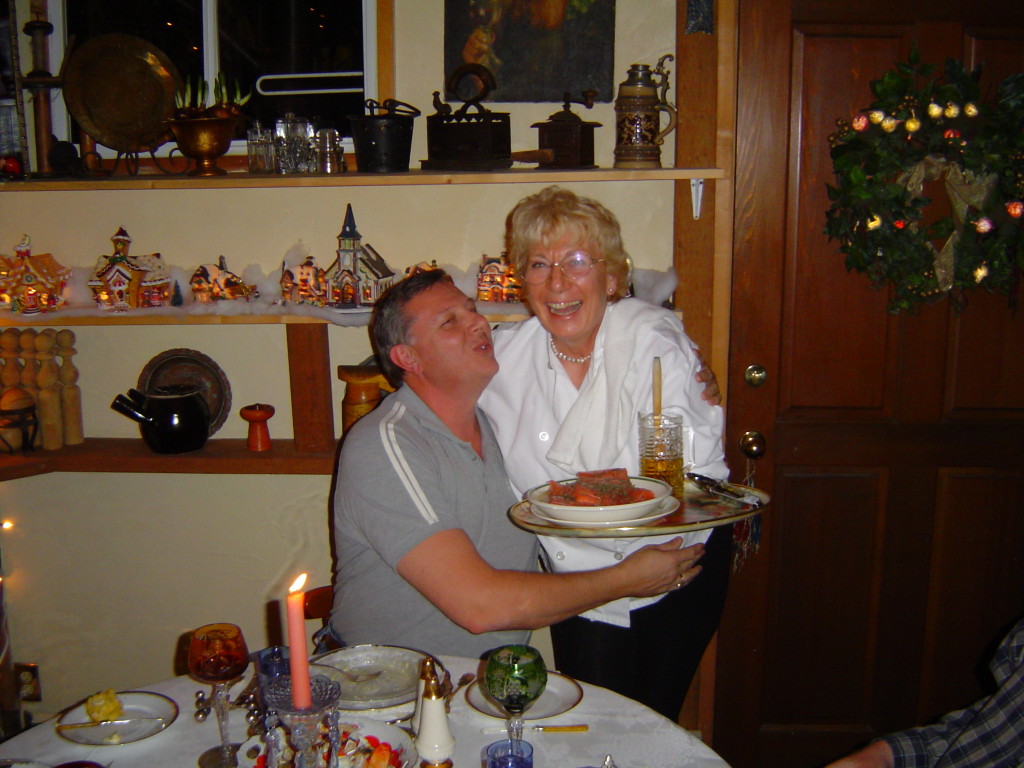 Our regular B&B guests often become just like family.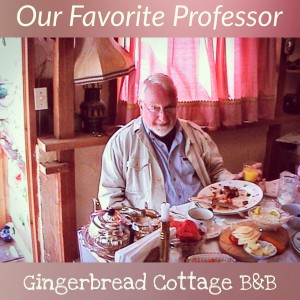 ---
Wedding Bells, Anniversaries and Honeymoons are common at the Gingerbread Cottage
This particular couple who both had huge amount of relatives avoided a huge wedding bill by eloping from Alberta to Victoria and getting married in our garden.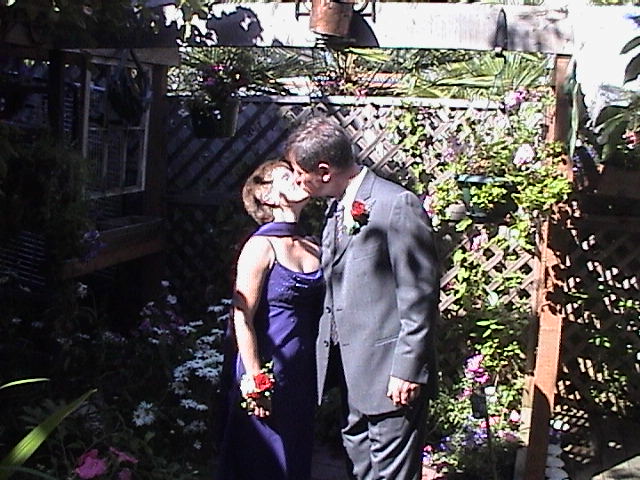 ---
Our Stranded American Neighbors on Sept 11, 2001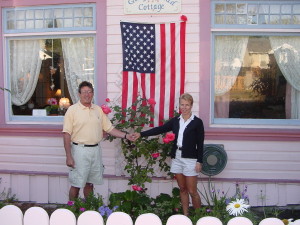 ---
Culinary Professional Guests at the Gingerbread Cottage
We have many chefs and other cooking professionals stay with us. One of them is Uncle Bob from Portland Oregon – who makes Steak and Chicken Rubs
Here is another video of Vanessa using the Chicken Rub
---
Random Reviews from Our Guest Book
We appreciate all of our B&B guests comments equally well, of course, here are a few randomly chosen ones to peruse.
Please click on our  review thumbnails  below to read
And you can leave a comment below on the bottom of this page to let us know what you think as well.
---
Book Your Stay Today and read the Rest of our Guest Reviews in our Guest books
Call Toll free 1-877-767-2121
iMessage or Text 250-812-5457
Email: [email protected]
---
Your Hostess and Private Chef
Vanessa von Schellwitz
Owner Operator Gingerbread Cottage B&B
As a child, Vanessa was a real life "Heidi" living in the Eschen Villa on the clean, cold alpine Attersee Lake, in Seewalchen Austria, 50 KM East of Salzburg. 
Vanessa's birthplace was located 50 meters from her Godmother's famous Paulick Villa – the Summer Playground to Vienna's Elite Art nouveau Community including Gustav Klimt, Egon Schiele, Richard Teschner and Friedrich Paulick at the turn of the 19th century.
In fact, the aunt of Vanessa's Godmother, Gertrude Floege, was the famous fashion designer Emelia Floege – life companion of Gustav Klimt who frequently painted at the Paulick Villa..
Also the last Countess Maria dei Medici, who lived adjacent to the Eschen Villa hand wrote a poem for Vanessa as a child… Not many People can say that!
Vanessa got her teaching Degree in Salzburg but her real love and talents were for cooking.. 
Coming to Vancouver Island via Culture City itself – Salzburg Austria – A true Austrian,Vanessa has pure Mozart flowing through her veins and a delicious piping hot Austrian ApfelStrudel in the Oven for her many guests!
Vanessa and her 70's husband owned and operated the Austrian Chalet, an 80 room hotel with 3 Restaurants in Campbell River BC
Vanessa spent many years as Victoria BC's busiest and most Versatile Culinary Instructor from her Veni. Vidi, Coxi Cooking School, and operating her busy "Vienna Catering" Business
Author of 8 Cookbooks, Vanessa also wrote a food Column, had her own TV cooking show and did food styling for other local authors.
Vanessa makes all her guests feel like Austrian Royalty in her c. 1905 Victorian "Arts and Crafts Heritage Home" with Cozy Themed rooms and Elegant 3 Course Breakfasts in her "Bavarian  Gasthaus" Style Breakfast Room
Please Feel Free to Contact us for booking information.
Call Toll free 1-877-767-2121
iMessage or Text 250-812-5457
Email: [email protected]

Past Member of International Association of Culinary Professionals