Salmon Recipes
Sockeye Omelette with Asparagus and Hollandaise  Sauce
Salmon Recipe Lox Omelette is made with cold smoked wild caught Sockeye Salmon
Our Salmon Recipes Video Shows another Tasty Lox Omelette with Asparagus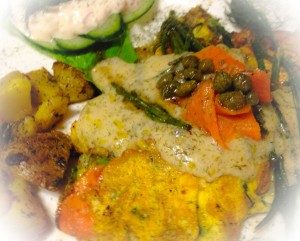 Salzburg born Chef Vanessa von Schellwitz combines her talent with salmon recipes  with tasty local ingredients, Omega 3 Free run eggs, wild caught cold smoked sockeye salmon, local Yukon Gold potatoes sautéed in butter, olive oil and garlic butter and topped with Vanessa's own Herbes de Provence. The lox omelette uses a cream cheese base and eggs are whipped to provide a fluffy consistency. The eggs themselves come from the happy, happy chickens at one of several local suppliers from the pastoral settings of Saanich.
Our guests love our seafood omelettes and lox omelette and other creative breakfast dishes.
You will want to try this experience next time you are in Lovely Victoria BC. Make sure to book ahead as this year will be very busy dud to low Canadian dollar..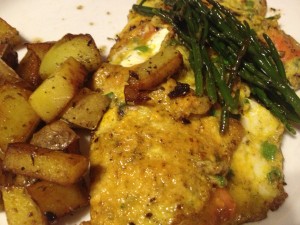 Vanessa serves a cooked to order breakfast to her fortunate Bed and Breakfast guests every day. The choices usually include a breakfast meat dish like Canadian Bacon and Duck Eggs, or a Vegetarian Omelette with Pesto and Goat Feta Cheese or the seafood specials.
She also serves a full starter buffet with her home-baked Molasses Granola, fresh-baked Squash Rolls, fruit and cheese trays, breakfast baking sweets and Orange Juice, Tea or coffee.
As everything is made in-house, Vanessa also caters to special diets such as vegetarian, vegan, gluten or dairy free. If you have a specific dietary requirement we can usually accommodate any requirement if you let us know ahead of time. Vanessa loves to be creative and uses mostly fresh herbs from our own back yard herb Garden.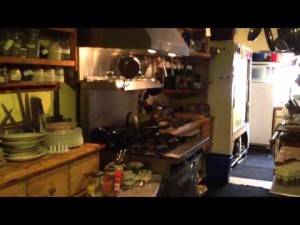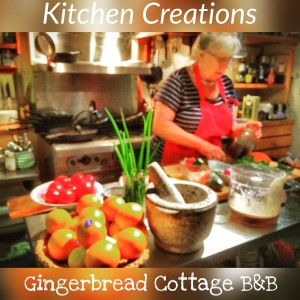 Vanessa's "Veni, Vidi, Coxi " Kitchen
Click here for Vanessa's " Breakfast at the Cottage" cookbook
Your Hostess and Private Chef
Vanessa von Schellwitz
Owner Operator Gingerbread Cottage B&B
As a child, Vanessa was a real life "Heidi" living in the Eschen Villa on the clean, cold alpine Attersee Lake, in Seewalchen Austria, 50 KM East of Salzburg. 
Vanessa's birthplace was located 50 meters from her Godmother's famous Paulick Villa – the Summer Playground to Vienna's Elite Art nouveau Community including Gustav Klimt, Egon Schiele, Richard Teschner and Friedrich Paulick at the turn of the 19th century.
In fact, the aunt of Vanessa's Godmother, Gertrude Floege, was the famous fashion designer Emelia Floege – life companion of Gustav Klimt who frequently painted at the Paulick Villa..
Also the last Countess Maria dei Medici, who lived adjacent to the Eschen Villa hand wrote a poem for Vanessa as a child… Not many People can say that!
Vanessa got her teaching Degree in Salzburg but her real love and talents were for cooking.. 
Coming to Vancouver Island via Culture City itself – Salzburg Austria – A true Austrian,Vanessa has pure Mozart flowing through her veins and a delicious piping hot Austrian ApfelStrudel in the Oven for her many guests!
Vanessa and her 70's husband owned and operated the Austrian Chalet, an 80 room hotel with 3 Restaurants in Campbell River BC
Vanessa spent many years as Victoria BC's busiest and most Versatile Culinary Instructor from her Veni. Vidi, Coxi Cooking School, and operating her busy "Vienna Catering" Business
Author of 8 Cookbooks, Vanessa also wrote a food Column, had her own TV cooking show and did food styling for other local authors.
Vanessa makes all her guests feel like Austrian Royalty in her c. 1905 Victorian "Arts and Crafts Heritage Home" with Cozy Themed rooms and Elegant 3 Course Breakfasts in her "Bavarian  Gasthaus" Style Breakfast Room
Please Feel Free to Contact us for booking information.
Call Tollfree 1-877-767-2121
iMessage or Text 250-812-5457
Email: [email protected]

Past Member of International Association of Culinary Professionals