Victoria BC Vacation Rentals at the Gingerbread Cottage Bed and Breakfast in Downtown
The Gingerbread Cottage is a 1905 Heritage Victorian Arts and Crafts home in pretty well original condition with most of the original hardwood floors and Windows. It is well zoned for vacation rentals as each guest area has access through a private stairwell just inside the front doors.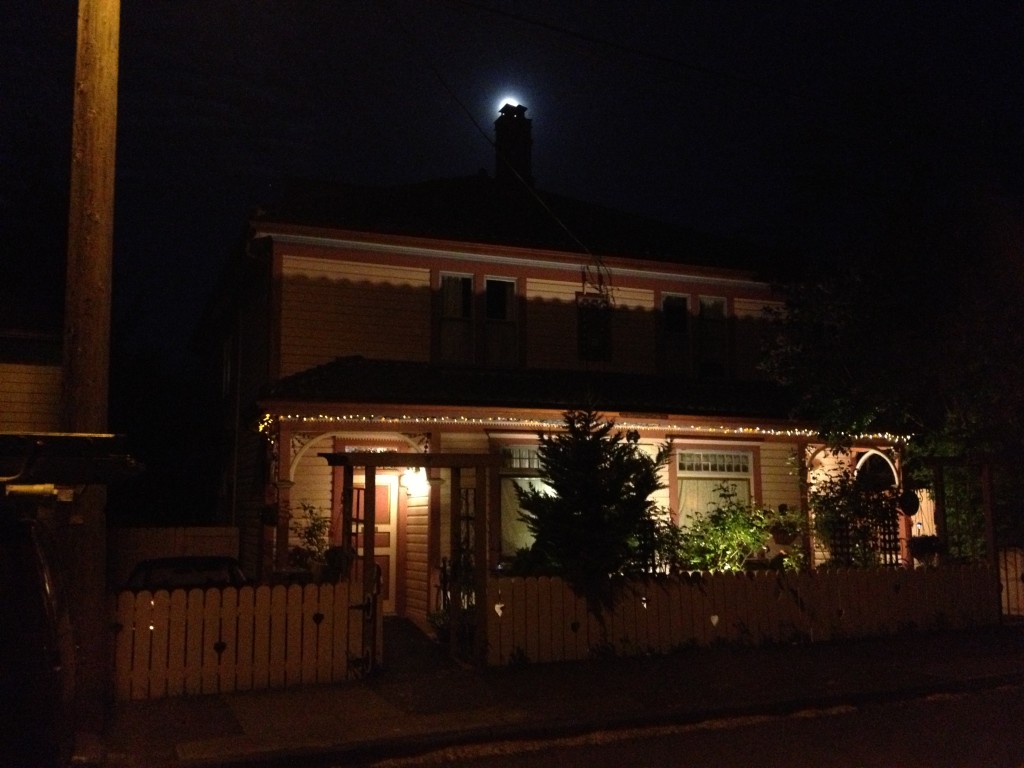 Victoria BC is a great place with many tourist activities located in the downtown area. The Gingerbread Cottage Bed and Breakfast is a great place to spend your vacation in Victoria BC. Our B&B is located in the James Bay Area straight up Oswego St from the Coho Ferry and Victoria Clipper Docks.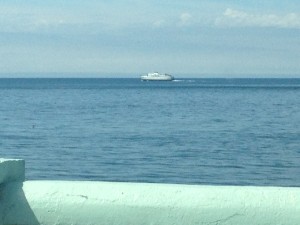 Tasty meals with organic produce from local farms and an excellent owner operator chef will give your vacation some style and leave the relaxing up to you.
Your Hosts Dean & Vanessa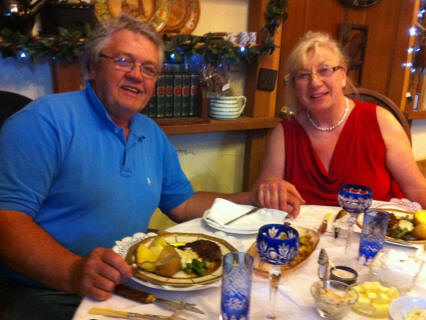 Vanessa hails from Salzburg Austria – an experienced hotelier and restaurateur welcomes you to a oceanside vacation in beautiful downtown Victoria BC. Vanessa is an excellent chef and has had a catering company, local Tv cooking shows and food presentation shoots for magazines. She also was Victoria's busiest culinary instructor.
Dean is from Swift Current Saskatchewan is an experienced tradesman and contractor. He is a past member of Toastmaster clubs and will happily give you some 'table topics' at breakfast, also has a lot of videos on YouTube with views approaching 4,000,000.
Every morning we offer our guests a large wholesome breakfast with Vanessa's Homemade Honey Granola, fresh fruit and fresh baking on the buffet. Served in our Bavarian Gasthaus style breakfast room. Followed by Cooked to Order Main Course Omelettes
We make sure you are cozy with our Plush Down Feather Duvets and crisp ironed sheets and bed linens. All in our quiet and private guest rooms.
We know you will enjoy your stay at our Victoria BC vacation rentals bed and breakfast! Book early and reserve the best vacation you could ever wish for.
Your Hostess and Private Chef
Vanessa von Schellwitz
Owner Operator Gingerbread Cottage B&B
As a child, Vanessa was a real life "Heidi" living in the Eschen Villa on the clean, cold alpine Attersee Lake, in Seewalchen Austria, 50 KM East of Salzburg. 
Vanessa's birthplace was located 50 meters from her Godmother's famous Paulick Villa – the Summer Playground to Vienna's Elite Art Nouveau Community including Gustav Klimt, Egon Schiele, Richard Teschner and Friedrich Paulick at the turn of the 19th century.
In fact, the aunt of Vanessa's Godmother, Gertrude Floege, was the famous fashion designer Emelia Floege – life companion of Gustav Klimt who frequently painted at the Paulick Villa..
Also the last Countess Maria dei Medici, who lived adjacent to the Eschen Villa hand wrote a poem for Vanessa as a child… Not many People can say that!
Vanessa got her teaching Degree in Salzburg but her real love and talents were for cooking.. 
Coming to Vancouver Island via Culture City itself – Salzburg Austria – A true Austrian,Vanessa has pure Mozart flowing through her veins and a delicious piping hot Austrian ApfelStrudel in the Oven for her many guests!
Vanessa and her 70's husband owned and operated the Austrian Chalet, an 80 room hotel with 3 Restaurants in Campbell River BC
Vanessa spent many years as Victoria BC's busiest and most Versatile Culinary Instructor from her Veni. Vidi, Coxi Cooking School, and operating her busy "Vienna Catering" Business
Author of 8 Cookbooks, Vanessa also wrote a food Column, had her own TV cooking show and did food styling for other local authors.
Vanessa makes all her guests feel like Austrian Royalty in her c. 1905 Victorian "Arts and Crafts Heritage Home" with Cozy Themed rooms and Elegant 3 Course Breakfasts in her "Bavarian  Gasthaus" Style Breakfast Room
Please Feel Free to Contact us for booking information.
Call Tollfree 1-877-767-2121
iMessage or Text 250-812-5457
Email: [email protected]

Past Member of International Association of Culinary Professionals