Breakfast Ideas at Gingerbread Cottage B&B
Vanessa von Schellwitz, the Gingerbread Cottage's owner operator – and well-known local Chef, Caterer and Culinary Educator – serves up a great big bed and breakfast menu in our dedicated Austrian Gasthaus style Breakfast Room available to our registered guests.
In addition to our regular breakfast ideas, Vanessa is a Professional chef and can accommodate most dietary requirements with tasty Gluten Free, Sugar free and Vegan dishes.
The Gingerbread Cottage's Starter Breakfast Buffet
Vanessa's Homemade Honey/Molasses Granola and Fixins
Greek Yoghurt
Fresh Seasonal Fruits and Berries
Generous Cheese Platter
Fresh Baked Breakfast Rolls
Berry Scones
Variety of Breakfast gateaux or Cinnamon Nut Rolls
Orange Juice, Piping Hot Coffee and large Tea Selection
Gingerbread Cottage Bed and Breakfast Menu – Entree Choices
We have several Meat, Seafood and Vegetarian Choices
Ham and Three Cheese Omelette
Bacon and Cheddar Omelette
Wild Caught Cold Smoked Salmon Omelette with Dill Béarnaise Sauce
Shrimp and Kelp Omelette
Radish Pesto and Tomato Omelette
Tomato and Fresh Basil Omelette in season
Eggs Benedict with Ham, Cold Smoked Salmon, or a Thick Slice of Fried Tomato
We also have our "Sweet Dish of the Day" which varies:
Sweet crepes with Various Seasonal Fruits and Real Whipped Cream
Plum, Apricot or Strawberry Austrian Dumplings with Fried Cookie Crumbs and real Whipped Cream
Real Belgium Waffles topped with fruit and Real Whipped Cream
Here is a little video, about our fancy Table sets and Doilies
Ask Vanessa for her "Breakfast at the Gingerbread Cottage" Cookbook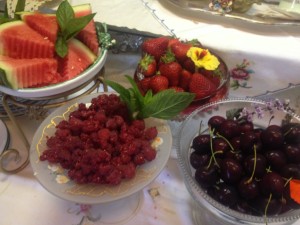 Fresh Seasonal Fruits and Berries
 Your Hostess and Private Chef
Vanessa von Schellwitz
Owner Operator Gingerbread Cottage B&B
As a child, Vanessa was a real life "Heidi" living in the Eschen Villa on the clean, cold alpine Attersee Lake, in Seewalchen Austria, 50 KM East of Salzburg. 
Vanessa's birthplace was located 50 meters from her Godmother's famous Paulick Villa – the Summer Playground to Vienna's Elite Art nouveau Community including Gustav Klimt, Egon Schiele, Richard Teschner and Friedrich Paulick at the turn of the 19th century.
In fact, the aunt of Vanessa's Godmother, Gertrude Floege, was the famous fashion designer Emelia Floege – life companion of Gustav Klimt who frequently painted at the Paulick Villa..
Also the last Countess Maria dei Medici, who lived adjacent to the Eschen Villa hand wrote a poem for Vanessa as a child… Not many People can say that!
Vanessa got her teaching Degree in Salzburg but her real love and talents were for cooking.. 
Coming to Vancouver Island via Culture City itself – Salzburg Austria – A true Austrian,Vanessa has pure Mozart flowing through her veins and a delicious piping hot Austrian ApfelStrudel in the Oven for her many guests!
Vanessa and her 70's husband owned and operated the Austrian Chalet, an 80 room hotel with 3 Restaurants in Campbell River BC
Vanessa spent many years as Victoria BC's busiest and most Versatile Culinary Instructor from her Veni. Vidi, Coxi Cooking School, and operating her busy "Vienna Catering" Business
Author of 7 Cookbooks, Vanessa also wrote a food Column, had her own TV cooking show and did food styling for other local authors.
Vanessa makes all her guests feel like Austrian Royalty in her c. 1905 Victorian "Arts and Crafts Heritage Home" with Cozy Themed rooms and Elegant 3 Course Breakfasts in her "Bavarian  Gasthaus" Style Breakfast Room
Please Feel Free to Contact us for booking information.
Call Tollfree 1-877-767-2121
iMessage or Text 250-812-5457
Email: [email protected]

Past Member of International Association of Culinary Professionals